Hospitality carpet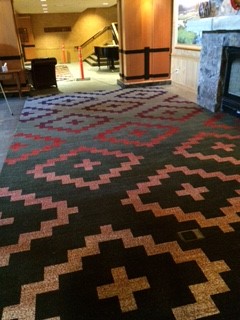 Carpeting for hospitality locations should be unique, functional, durable and look great.  When designing for these spaces a balance is needed in order to provide the beautiful look and the necessary functionality.  Hospitality locations  wanting  custom flooring solutions to create atmosphere can rely on our experienced team of designers to help achieve your goal of creating a beautiful unique space.
Coventry flooring has installed thousands of yards of carpeting for hospitality locations including  guest rooms, ballrooms, foyers and restaurants.  Our experienced staff can show you specific carpet styles made for hotels that will match your needs for durability, clean ability and beauty.  Hotel carpets are made to be stain resistant and hold up to heavy foot traffic.  These carpets come in a variety of styles and types based on your specific needs.  When you are installing carpeting in a hospitality setting  you need durability. Hospitality carpet is designed for the traffic that businesses get.  Hospitality carpet comes in a  variety of choices in style, fiber, and color.   In hotels it can provide directional cues.
Hospitality Carpets or Hard Flooring
Creating a unique beautiful setting that helps reduce sound can be solved using carpeting designed for hospitality settings. There is a lot of noise in a hospitality setting and carpeting is a great way to soften the sounds coming from these areas. Carpet helps reduce sound by absorbing it while hardwoods or tile can actual make the sounds louder because the material reflects sound.
Hospitality carpet typically comes in broadloom.  It is the least expensive option.
Carpet tile  is more versatile as you can pull up individual pieces if they get damaged.  It comes in a variety of sizes such as rectangular or square so you can create custom looks.  Carpet tile  is stronger overall than broadloom as it has a better backing and typically lasts longer because of the denser thicker backing that makes the product more stable.  It is great for highly trafficked areas.  Hospitality carpet should be easy to maintain. These carpets are typically flat and dense so they vacuum easily.
At Coventry Carpets, we have installed 1000's upon 1000's of yards of hospitality carpet throughout Colorado.  Our  experts will help  you choose the best carpet for your facility and location.  We provide free estimates and will come out and inspect where you will be installing the carpeting with our mobile showroom so you can see many options and we can give you a solid estimate on the cost.
Listed below are just a few of some high profile commercial places we have installed Carpet. The Brown Palace Hotel (Denver),  St. Julian Hotel (Boulder), Sonnenalp Hotel (Vail), Steamboat Grand Hotel (Steamboat Springs), The Glass House (Denver),  Paramount Café ( Denver),  Southridge Rec Center ( Highlands Ranch), Union Station (Denver), Colorado Christian University, Regis University,  Zoom,  and Olingers Mortuaries.
Call Coventry Carpets, we have the design and installation know how to turn your hospitality space into a work of art. You will also receive our lifetime installation warranty.