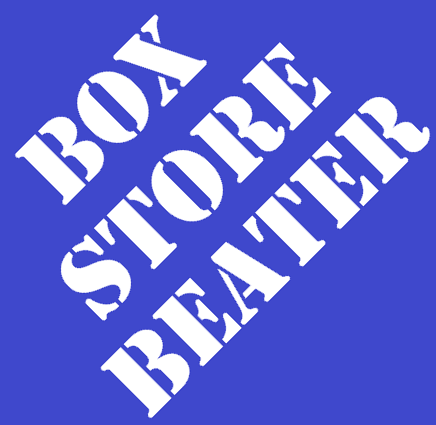 Be cautious of the "Big Box" stores if you are wanting to get new carpet installed. They often have promotions where they advertise "Free Carpet Installation." We all know nothing is free and they pay their subcontractors with their "free" install because the carpet is double what we would sell an equal carpet for, and their pad is also approximately double. If you hire Coventry not only will your install on equal carpet and padding be about 25% less.
Service is not their top priority. They advertise low prices and free installation but the reality is that the Big Boxes are more expensive than a company like Coventry Carpets when you compare what you are getting.
Big Box stores experience significant staff turn-over. Because of this, their designers are typically inexperienced. Inexperience in designing the best flooring for your home and needs will result in lackluster designs, mistakes, and delays for your Carpet and Luxury Vinyl Tile installation in Denver.
Big Box stores carry a smaller selection of carpeting and LVT. We provide a much larger variety of all types of quality carpeting and flooring.
When you buy your carpeting and flooring from Coventry you are dealing with one point of contact for everything. We do the layout, ordering and the install. If anything should go wrong, we guarantee to make it right at no cost to you.
Our mobile showroom allows our sales consultants to come directly to your home or business with samples and give you a free estimate, on your schedule and because of our low overhead and "WAREHOUSE" pricing we are able to pass the savings on to you. We also have a beautiful showroom that is by appointment only. Our Experienced people provide you with the additional factor needed for a unique design that works with your home and lifestyle. We can answer any questions you have about all types of flooring as it is all that we do.
Warranty on all their work and products. If the work is not guaranteed and you do not get a warranty on the products, what can you do if something goes wrong? Make sure you hire someone like Coventry Flooring who has been in business for years. We guarantee to make any issue you have right!
At Coventry Flooring our installers are employees, not subcontractors. Our installation crews are all insured and bonded. Most of our installation crews have over 30 years of carpet experience. They are reliable, honest, hardworking and pleasant to have in your home. Some notable installations that we have done are the "Brown Palace Hotel", "Regis University" and "Steam Boat Grand hotel".
When you are ready to have new carpet installed make sure you get the best quality carpet padding to go with it. The padding will help your carpet last longer and work better. Carpet padding density and thickness each help with carpet performance.
Coventry Carpets is a family-owned and operated referral-based company built on developing relationships with our customers by revolutionizing the way they experience flooring. Scot Johnson and Tom Burns created the company in response to over 40 years of combined service in the industry. They began with carpet and transformed it into not just a material but to a product that includes not only the carpet itself but also the installation of that carpet.