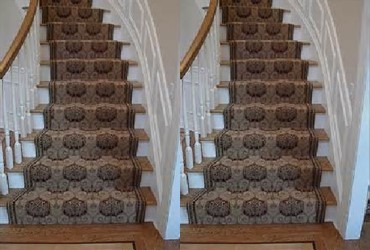 You walk into the front door of a home and immediately your eyes are drawn to the most beautiful stair runner you have ever seen…….
Stair runners don't happen by chance.  They are often times referred to as "A work of Art. " Custom stair runners are unique and can visually impact a home's grand entrance or make a simple tasteful statement about the owners of the home.
Stair runners come in all shapes, sizes and budget's, some have beautiful sweeping vines patterns which are elegant in traditional homes with curved stair cases. Others can be more geometric and contemporary and look stunning in a straight line staircase leading up.  Regardless of your taste, there are many options and varieties to choose from at our design center.  (by appt only)
Tom and his 35 years of carpet experience will transition your beautiful new stair runner to fit perfectly in your home.  Consider this:  Tom and his crews have installed all the beautiful patterned carpet in the Brown palace hotel.  If he can make that beautiful, then he can make your stairs look the same.
Why a Stair Runner?
Adds to a beautiful focal feature upon entering a home
A safe alternative to slippery wooden stairs that create accidents
Pulls the homes décor together, transitioning the lower level with the upper level
Can reduce noise and echo's that sometimes wooden floors can make