The term "Luxury Vinyl" came about to describe a vinyl tile or plank floor as one that looks like wood or stone. Luxury vinyl plank  (LVP) is a wood-like plank. ( LVT) stands for Luxury Vinyl Tile and it looks like tile or natural stone. Technology has developed these looks to the point where it is difficult to tell if you are looking at a luxury vinyl plank floor or the real thing.  Luxury vinyl has a slightly softer surface than wood or tile floors. This surface provides more flexibility making it easier to stand on for long periods of time which is great for kitchens or game rooms. In addition most luxury vinyl is waterproof.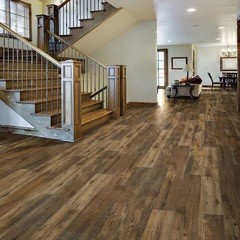 Deciding on planks or tiles?
Wood planks provides a warm feel, and is good for family rooms, dining rooms, kitchens, and bedrooms. Tile or stone tile works well in bathrooms, entryways, and laundry rooms.
Planks can be put down in staggered or random patterns, or diagonals. You can lay tiles in any fashion such as point-to-point or brick patterns. You can even use grout between luxury vinyl tiles to make the appearance or real tile.
Another option to consider is what size you want your luxury vinyl flooring plank or tile to be. Tiles are square or rectangular. Planks are rectangular and come in different length and width.
Installation:
Click-to-lock: The luxury vinyl flooring float above the subfloor with this installation method.  Click-to-lock flooring has grooves and tongues on its edges to allow for easy interlocking. You can walk on this installation as soon as you finish.
Glue-down: An adhesive is used  to attach the flooring to the subfloor,  grout can also be used for a tile look.
Loose lay: Has an anti-slip layer on the bottom of the flooring to help it stay in place on the subfloor. Installation is mess-free, and it can be easily removed and replaced.
Price:
With vinyl flooring you can save thousands without sacrificing style because the look is so realistic on the nicer luxury vinyl.  LVP is less expensive than tile or wood and the installation costs and time are significantly less as well.
Beware of bargain brands. They can scratch easily and may not be waterproof.  You get what you pay for.
Nicer vinyl flooring usually has some sort of rubber underlayment which makes it softer to walk on.  During  installation  you can put some sort of underlayment to make the floor feel even softer and quieter, and provide additional insulation.
Versatile:
Unlike wood vinyl flooring is great in bathrooms, basements and kitchens because it is water proof or water resistant. It will not discolor or rot and the floating variety is great for basements that could potentially flood.
Durable:
Vinyl flooring is perfect in busy households. It won't scratch easily. Better vinyl flooring has through-body coloring. Which means if they scratch the damage is less visible.
Comfortable:
Vinyl feels soft underfoot. Vinyl absorbs pressure so it is nice to walk on.
For additional comfort, treat yourself to planks that feature added layers of padding or use an underlayment between the sub floor and the vinyl.
Insulated:
Vinyl flooring stays room temperature. In cold environments  your floors will feel warm and comfortable. Vinyl flooring also absorbs noise so it is a great choice for second stories and playrooms.
Maintenance:
It does not get any easier than vinyl flooring.  They clean-up in a matter of minutes with a static dust broom or mop.
At Coventry we carry the following brands of Luxury Vinyl:  Provenza, Du Chateau, Earthwerks, Evoke, Armstrong, Stainmaster and others.
Coventry  is the home of the lifetime installation guarantee!  If you are looking for exceptional customer service and the best deals on flooring give us a call to schedule a meeting at our Denver showroom located close to 8th avenue and I-25 or for an in home estimate with our mobile showroom. We will be able to give you a cost for the installation after examining the areas you want your LVT or carpet installed.