Pets can do a number on your carpeting, especially young pets.  Pets shed hair and have accidents which will reduce the life of your carpeting.  Stainmaster®'s PetProtect®,  the leaders in carpet stain protection have developed PetProtect® Nylon Carpeting that is designed to prevent carpet stains with stain-resistant nylon.  Spills should not become permanent stains if the spill is treated right away.
When accidents happen follow these steps for the best results:
PET URINE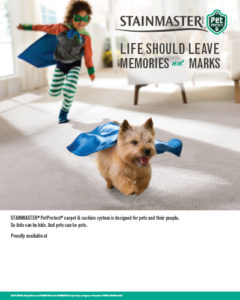 Soak up and blot spill.
Apply tested cleaning solution.
Leave solution on 5 minutes or more.
Rinse with cold water; cover with white paper towel.
CLEANING SOLUTIONS
Try our STAINMASTER™ carpet care products with breakthrough technology to quickly remove tough stains and protect your carpet from resoiling.
Detergent Solution
Mix 1/4 teaspoon mild liquid dish soap with one cup warm water.
Vinegar Solution
Mix 2 tablespoons white vinegar with 4 cups warm water.
STAINMASTER® carpet is famous for being easy to clean, and rightly so! Our proprietary technologies, including LotusFX® Fiber Shield, allow STAINMASTER® carpet to deliver excellent stain and soil protection.
Stainmaster®'s PetProtect® line is the best choice of carpet for homes with pets and kids.
Resists pet stains. The carpet is solution dyed and made with SuperiorSD™ nylon fiber so it's color safe.  It has built-in stain protection and it locks in the color so it resists fading.
Releases pet hair. This carpet releases pet hair while vacuuming. It uses proprietary technologies to reduce the attraction of the hair to the carpet.
Reduces pet odors. The way this carpet is made helps keep spills and accidents on the surface instead of penetrating.
Highly durable SuperiorSD™ nylon fiber holds up extremely well to household traffic and maintains its texture and appearance.
Comes in a variety of styles .
Color fast and solution dyed which means that the color is added before the fiber was spun so it's locked-in.
Resists fading from UV rays, sunlight.
Coventry Flooring is the home of the lifetime installation guarantee! Give us a call today to get started on a new look for your home!