Carpet Beautifies Your Home!
Coventry is the Best Place to go for Carpet in Denver.
Home of the Lifetime Installation Guarantee
Provides Coziness and Warmth
In colder seasons carpet retains warm air longer, so it is an energy saver.  We all know how nice carpet can feel to sit or lay on.
Adds Elegance
There are thousands of carpet styles and colors allowing you to personalize your living space.
Enhances Air Quality
New carpet is the lowest VOC emitting choice for your floors today. Carpet works as a passive air filter by  capturing dust  pollens and other particles..
Helps Reduce Sound
Carpet helps absorb all types of sounds. Carpet works as a barrier between floors by helping to block sounds to rooms below. And carpet on stairs helps mask the sound of constant foot traffic.
From sumptuous pastel plush to rugged berber tweeds, carpet is a universally popular floor covering, Broadloom has long been synonymous with comfort and luxury, but in today's eclectic room schemes, carpeting is just one of numerous soft options for a high-fashion floor.
Whether you choose a room-size loose-laid or wall to wall permanently installed over a cushion, this soft floor covering, offers many practical advantages. Broadloom's sweep of color and underfoot comfort gives any room-even sparely set ones-a more "furnished" feeling. Colors can work magic, too. For example, a light hue visually expands a small space, and a dark one cozies up a large room. Carpet in a sunny color can visually warm a room short on natural light. Before you buy carpets, study samples at home, and remember that the color of a room-size carpet will be more intense than the samples.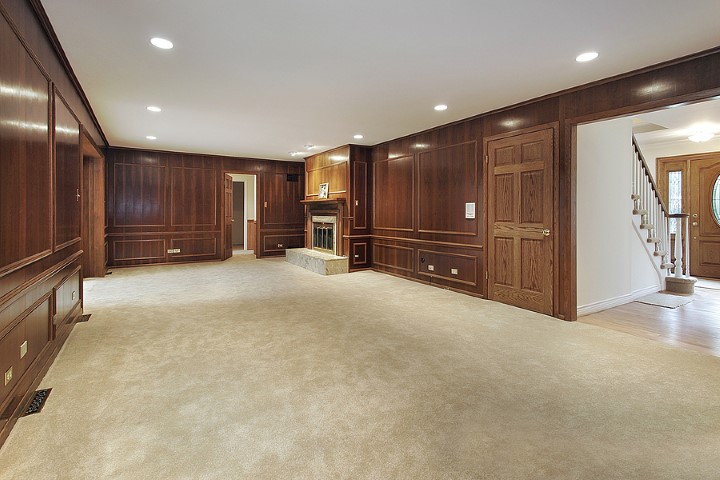 Advantages of Carpeting
Materials and construction give carpeting inherent virtues that may suit your decorating needs.
Broadloom absorbs sound, an appealing feature for condominiums, town houses, and homes with high ceilings.
Yarn construction and surface texture add soft contrast to a room's angular architecture.
As versatile camouflage, broadloom goes over any existing floor, with no need for a new sub-floor, and it hides uneven surfaces and existing floor damage.
Today, carpet is available with soil, stain, odor, and static-resistant features, and manufacturing techniques have increased its durability and cleanability.