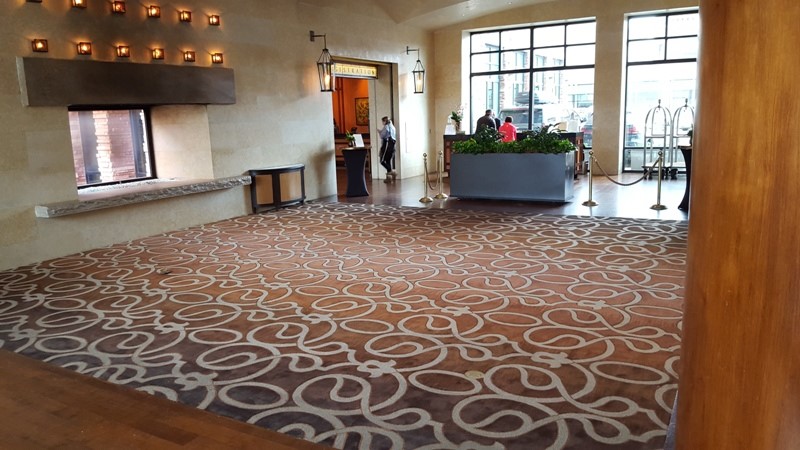 Stair runners add class and beauty upon entering a hotel or a home. Upon viewing them they often look like works of art.  Custom stair runners visually enhance a hotels staircase and make a statement about that hotel.  Stair runners can be made from all types of carpet.  They can be as extravagant as you desire.  Stair runners can be used to enhance the appearance of a hotel, business or home. Some hotels where we have installed custom stair runners include: The Brown Palace, The Steamboat Grand, Sonnenalp in Vail, ST Julien in Boulder, Doubletree on I-225.
Wool or synthetic fiber?
A stair runner is typically more decorative than standard carpet and is  woven for stair use. Stair runners are usually woven using wool or synthetic pile fibers.  The fiber comes in many styles and prices.
Either fiber works great and can be said to be better than the other in different ways.  The experts at Coventry provide our customers with all of the information necessary regarding the differences and help you make the right choice for your business or home.
Stair runner installation:
They are  installed over a dense carpet pad using small hidden staples that keep the carpet from moving.  Having a properly installed stair runner is critical for it  to perform well and last for a long time.  Incorrect installation can result in a safety risk and greatly reduce the life of the stair runner.  At Coventry we have installed hundreds of stair runners on all types of staircases.  You will be glad you chose Coventry as you will have a beautiful staircase for years to come.
Maintaining your stair runner:
1.       Vacuum regularly.
2.       Keep the floors by the stairs clean.
3.       Professional carpet cleaner when needed.
If you would like a quote for a custom stair runner in your hotel, business or home and to see samples from our mobile showroom truck then give us a call.  You will not be disappointed.  Custom Stair runners are not as expensive as you may think that's why we have installed hundreds of them all over Metro Denver and the state of Colorado.