Choosing a flooring company is not just an important economic decision.  It can also affect the look, design and functionality of your home.
The right flooring company will understand your unique situation, and work with your budget to make the most of your investment.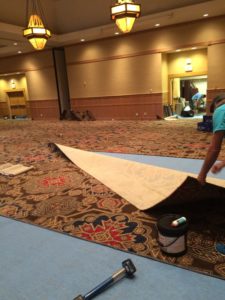 Here's some things to look for when choosing a professional flooring company:
At Coventry Flooring our installers are employees, not sub-contractors. We are one of very few companies that guarantee's the installation for the life of the carpet because we install it.  Our installation crews are all insured and bonded.
We have some of the best installation crews in the state, and our reputation in the industry is second to none. Most of our installation crews have over 30 years of carpet experience. They are reliable, honest, hardworking and pleasant to have in your home.  Some notable installations that we have done are the "Brown Palace Hotel", "Regis University" and "Briarwood Inn" "Steam Boat Grand hotel"
Coventry Carpets does it's best to go above and beyond when it comes to the installation of your new carpet, even vacuuming the job upon completion.
Coventry Carpets is a Five Star rated company, by an independent home services review company.   We are only one of 2 companies that is recommended in Denver.
Better Business Bureau gives us an A plus rating
Google Reviews gives us a 5 star rating
Yelp gives us a 5 star rating
At Coventry Carpets, we don't just want to sell you carpet one time, We look forward to servicing you and your family for years to come,  that's why 90% of our business is word of mouth referrals.
We do our best to fit the correct carpet for the application it is intended to be used for, Our goal is to find a carpet that works best for your family/ office, and not just sell you any ole carpet to get awarded the job.
Ask around to friends, family, neighbors, online to see what company is right for you. I think you will find out soon enough that Coventry Carpets is the name that keeps popping up.