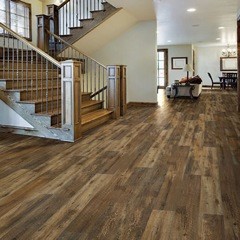 Luxury Vinyl Tile (LVT) is the fastest growing segment in the flooring industry. This is the designer's choice for many commercial and residential applications. This unique product is the perfect combination of beauty, maintenance and durability.
You can now  have the look, graining, and character of real hardwood in LVT.  Today's manufacturing processes create amazing vinyl "wood" planks and textured "stone" tiles that rival the real thing.
 Luxury Vinyl Tile Flooring Construction
Luxury vinyl flooring systems use advanced realistic photographic technologies  to replicate real hardwoods and stones. There are four  layers fused together to produce the final product: a resilient vinyl backing, a vinyl color layer, a photographic film layer, and a urethane or aluminum oxide top layer. The protective top layer  is very important to the durability of the product.
Features & Benefits of Luxury Vinyl Tile Flooring
The look and even feel of the best natural materials at a lower price including distressed wood finishes, stone and slate tactile surface textures, and woven textiles imbedded in the wear layers.
LVT satisfies Green building standards and earns LEED points for commercial jobs.
Meets commercial flammability codes, slip resistant requirement, and an assortment of other safety codes.
LVT floors can be cleaned by a simple damp mopping.
LVT floors are water resistant.
LVY is scratch, stain, dent and scuff resistant.
LVT is very durable and is constructed to withstand commercial wear and tear.
LVT is ideal for residential high-traffic areas as well as other areas of the home.
Warranties vary by manufacturer, but it's not unusual to see 20-25 year warranties.
Exceptional Naturalism and Durability
LVT floors are designed to capture the look of natural stone tile flooring, wood planks and ceramic tile floors, while providing a very durable surface. LVT comes in fashionable designs ranging from contemporary to a rustic look.