Be cautious of the "Big Box" stores if you are wanting to get new carpet installed.  They often have promotions where they advertise "Free Carpet Installation."  We all know nothing is free and the only way they can afford to pay their subcontractors is to give you cheaper quality padding and /or carpeting.
Service is not their top priority. They advertise low prices and free installation  but the reality is that the Big Boxes are more expensive than a company like Coventry Carpets when you compare what you are getting.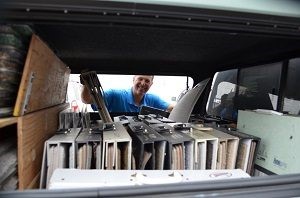 When you buy your carpeting from Coventry  you are dealing with one point of contact for everything. We do the layout, ordering and the install. If anything should go wrong, we guarantee to make it right at no cost to you.
Our mobile showroom allows our sales consultants to come directly to your home or business with samples and give you a free estimate, on your schedule and  because of our low over head and "WAREHOUSE" pricing we are able to pass the savings on to you. We also have a beautiful showroom that is by appointment only.
Warranty on all their work and products.  If the work is not guaranteed and you do not get a warranty on the products, what can you do if something goes wrong? Make sure you hire someone like Coventry Flooring who has been in business for years. We guarantee to make any issue you have right!
At Coventry Flooring our installers are employees, not sub-contractors. We are one of very few companies in Denver that guarantee's the installation for the life of the carpet because we install it.  Our installation crews are all insured and bonded.  Most of our installation crews have over 30 years of carpet experience. They are reliable, honest, hardworking and pleasant to have in your home.  Some notable installations that we have done are the "Brown Palace Hotel", "Regis University" and "Steam Boat Grand hotel".
When you are ready to have new carpet installed make sure you get the best quality carpet padding to go with it.  The padding will help your carpet last longer and work better.  Carpet padding density and thickness each help with carpet performance.