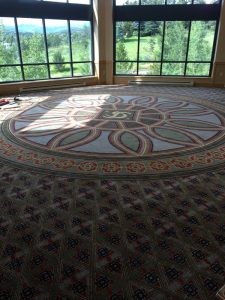 Wool Carpet is a natural fiber that is one of most popular types of carpet for your home.  Wool carpet is a natural fiber that resistant to moisture and mold. Wool is a long lasting material that wears nicely.
Wool is the only natural fiber that makes it into the top four most popular types of carpeting.
Pros of Wool Carpet
Natural Fiber
Wool is made from sheep that are shaved and the wool is processed into yarn. The wool is treated before being woven into carpeting .
Naturally Flame Retardant
Wool has a natural flame retardant quality. Wool does not usually ignite like other fibers. Commercial buildings owners use it because of its flame retardant trait.
Moisture Resistant
Wool absorbs and releases moisture efficiently. Wool returns to its original state after the moisture has dissipated. Wool has natural wicking properties which is why it is used in lots of clothing.
Dirt Resistant
Wool is a very long lasting material. It hides dirt nicely and is easy to clean.
Great Insulator
Wool has a natural waviness which makes it one of the best types of natural insulation. Wool carpet can lower your energy expenditures as it provides a thermal insulator in the winter and a cooling protection in the summer months.
Wool carpeting is elegant
Wool is easy to color because it naturally retains moisture. Dyes can be applied which will last for an extremely long period of time.  This makes wool carpeting fantastic for decorating any room.  People love how wool carpeting looks and lasts. Wool is used in most oriental carpets because of its capacity to hold dyes nicely.
Cons of Wool Carpeting
Pricey
Wool tends to be more expensive than a lot of fibers because of the cost involved in processing the wool from the sheep into carpeting.
Less Stain Resistant
Wool is easily dyed and it is easily stained. If you have younger children it may not be the best choice for your home.
Call Coventy Flooring and let our experienced staff help you decide if wool carpeting will be a good choice for your home and lifestyle.