Materials Only (No Installation) We carry Pre-Finished Woods and Laminates, Ceramic and Porcelain Tile.
Laminate Flooring
We carry a wide variety of laminate products. Laminates certainly have their place and purpose in the flooring industry. The simple installation method and price point allows you to achieve a " Wood Look" without breaking the bank. Ask a sales associate to help you find the right one.
Laminate flooring has become a popular choice for many homeowners due to its ability to closely emulate today's most popular hard surfaces, especially hardwood planks and tiles. Besides the great textures and designs, laminate flooring offers improved durability, easier maintenance and affordability compared to other types of hard surfaces floors. These floors are extremely resistant to wear, stains and sunlight fading. The beautifully rich textured finishes make these floors a great alternative for most areas in the home.
Having arrived from Europe over a decade ago, laminate flooring was inspired by countertop materials, only it's at least 20 times stronger. With a high-pressure laminate surface it is virtually impossible for spills and scuffs to leave a mark. The clear surface layer protects the pattern underneath and is highly resistant to cigarette burns and scratches from pets. Maintenance is quick and easy using a damp cloth or vacuum and most household cleaning chemicals will not harm a laminate floor. The surface is hygienic and is excellent for people suffering from allergies.
Specially engineered with layered construction, laminate flooring can be installed almost anywhere in the home, including over dry concrete slabs, wooden subfloors and many types of existing floor coverings. The low clearance space height means laminates are particularly suited for renovation and restoring old houses where floor thicknesses can be a problem.
Benefits of Laminate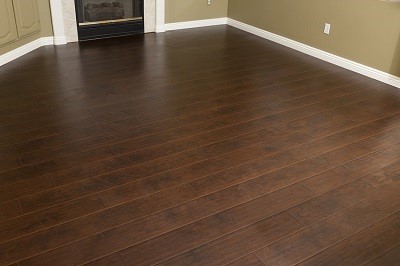 Appealing hardwood visuals and marvelous slate and stone looks are the hallmark of today's laminate. It simply looks like the real thing. And laminate flooring is great for busy families: it installs easily, wears incredibly well, and comes in breathtaking colors and styles. High-end and fashionable, laminate's a hot choice.
Today's laminate looks so realistic, you'll find yourself asking, "Is it laminate … or is it hardwood?"
It's laminate, all right—the stylish result of continuing breakthroughs in modern technology and manufacturing methods. There are styles that convey the authentic look of wood or the classic appeal of ceramic tile.
Various shades and finishes allow you to choose the wood look down to the species, and now laminates are mimicking hardwood even more. Some laminates offer beveled, distressed, and highly textured options—giving your laminate floor not only the look of hardwood, but the feel of it, too.
Laminates are inherently "green," because they use fewer resources and far less wood in their manufacture. And because they're durable—some styles even offer 25-year warranties—you don't have to replace laminate floors as often.
Consider laminate for a distinctive look that's beautifully affordable … and affordably beautiful.
Glueless Laminate Board Replacement and Repairs
Shaw glueless laminate may be assembled and disassembled several times. Carefully disassembled glueless joints will retain their original locking integrity during re-assembly. New replacement plank(s) should be acclimated in the replacement area for at least 72 hours, to allow them to equalize to the conditions of the flooring in the room where the replacement(s) will take place.
Remove baseboard, wall base, or quarter-round as needed to replace the damaged board(s).
Take the flooring apart, 1 row at a time, by lifting the rows to detach them; then separating the individual boards.
Be sure to stack the individual planks in the proper order for re-installation. This usually eliminates the need to cut planks for start or end of the row lengths.
Replace the damaged board with a piece from the edge of the original installation.
Insert the properly acclimated new plank(s) along the outer edge of the original flooring installation during re-assembly. This minimizes the chance that a newer plank might stand out from the wear condition of the original installation.
Re-install the baseboard, wall base, or quarter round, and the replacement-repair is complete.
Installation
We help you every step of the way after you've selected your new floor: professional on-site measurement, removal of old flooring, and skilled installation that includes moving your furniture and replacing trim. We do it all expertly, so your floor will look amazing and give lasting satisfaction. Learn the particulars about laminate installation here.
Before Installation
If you want a problem-free installation—and we all want that!—here's a checklist of things to do before the installer arrives.
Make sure you know who's removing your existing flooring. If you wish, the installer will do it. If not, you should make arrangements to have it removed.
Who's moving the furniture? Decide in advance if you want to take on the responsibility or if you want the installer to handle it. Either way, be sure to remove all fragile items from the room.
In general, your laminate should run parallel to windows or, in narrow rooms, to the longest wall.
Measure door clearances before you have your laminate installed. If the new floor is thicker than your existing floor, door bottoms may rub. Plan in advance to have someone shave or saw the correct amount off the bottom of each door so it does not drag.
Paint first. If you're planning to paint, wallpaper, or do any other remodeling in the room, it's best to do it before your laminate is installed. Keep extra paint to touch up any post-installation nicks.