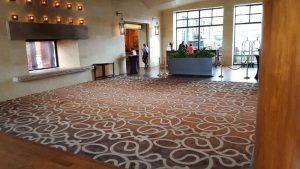 Businesses experience a higher volume of foot traffic, so the flooring needs to be able to take the traffic without having to be replaced too soon. Commercial space with heavy  traffic should select a commercial carpet  to withstand the heavier foot traffic.
Durability and economy are the goals of commercial carpet .
Residential carpet is designed with comfort in mind and it typically uses a thicker padding.
Residential carpeting usually has bigger pile and a looser loop design.
Advantages of Commercial Carpet
Commercial carpet is designed to be sturdier so the material generally has a shorter pile and tight looping which provides the density needed to spring back  into its original shape.
Most commercial carpets are stain-resistant, which cuts down on how often they need to be cleaned.
Disadvantages of Commercial Carpet
Rougher texture
Less comfortable to stand on because less padding
Commercial Carpet Materials 
Nylon is the most used option because it is durable, stain resistant and attractive.
Olefin is a little less durable but is much cheaper than nylon. For this reason it is often used in commercial spaces without a lot of foot traffic or if the tenant is moving within a few years.
Commercial Carpet Construction
There are three major types of commercial carpet construction.
Cut pile is usually the most expensive and the nicest. This type of carpet is plusher  and is often used in high-end office space.
Loop is the most common type used in commercial spaces. The fibers are looped not cut, which minimizes fraying and gives the carpet   Big areas with a lot of foot traffic usually use this style of carpet.
Carpet tile is used in all types of commercial applications for high traffic areas. The reason for the installation of carpet tile in high traffic areas is that the tiles in these areas can be replaced with tiles from lower traffic areas and the look of the building is easier to maintain. Tiles that have been damaged can be replaced with new ones. This movement of carpet tiles helps maintain the look of the carpet and it lasts longer because of it.
Coventry Carpets guarantees their installation and takes pride in their work. We are one of very few carpet companies in Denver that actually do our own installations.  Most other retailers sub out their work.  Most of our installation crews have over 30 years of carpet experience.  Coventry employees are reliable, honest, hardworking and pleasant to have in your home or business.  Some notable installations are the "Brown Palace Hotel", "Regis University" and "Briarwood Inn".