Fall is a perfect time to remodel your home and carpet can be a great flooring option to give your home a fresh clean look.  Why not spruce your home up for the winter as you will be spending more time there.  Carpet adds value, style, and a warm feel to your home. Carpet is available with soil, stain, odor, and static-resistant features, and manufacturing techniques have increased its durability and cleanability.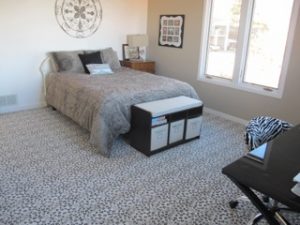 Indoor air quality is more important than ever. The EPA reports that we spend approximately 90% of our time indoors. Carpet improves indoor air quality by trapping dust and allergens in the carpet, which are removed through vacuuming. Certifications like Green Label Plus certify that brand of carpet is a low emitter of volatile organic compounds.
Easy Cleaning: Carpet is easier to clean than most other types of flooring. Carpet mainly needs  regular vacuuming and perhaps an annual deep spring cleaning. That's all it takes to keep your carpet looking great and lasting for its intended life.
Style Options: Carpet offers  many options to create the look you've always wanted. Lighter color options allow you make an area appear more open, while darker colors give an area room more coziness. You can choose a style of carpet that relates to comfort as well.
Noise Reduction: Stereos, TVs, phones, kids, pets and computers can make all kinds of noise. Carpeting is very effective in absorbing these sounds. Carpet padding beneath your carpet reduces the sounds even more. Carpet provides a barrier between floors by helping to block sound to the rooms below.
Broadloom carpet absorbs sound, an appealing feature for condominiums, town houses, and homes with high ceilings. As versatile camouflage, broadloom goes over any existing floor, with no need for a new sub-floor, and it hides uneven surfaces and existing floor damage.Ask around to friends, family, neighbors, or online to see what company is right for you. I think you will find out soon enough that Coventry Carpets is the name that keeps popping up. http://www.coventryflooring.com/our-products/top-rated-carpet-store-in-denver/
Coventry Carpets guarantees their carpet installation and takes pride in their work.