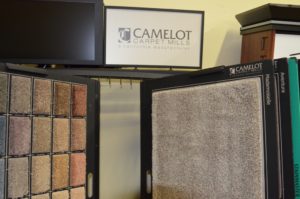 At Coventry flooring we custom make area rugs in all shapes and sizes based on your needs.  We can make them from any of the carpets we carry.  It's a great  idea to have an area rug in a living room or family room. Area rugs provide warmth, coziness and they are decorative. They can create a frame in which to place furniture and define living spaces.  People use them as artwork and conversation pieces.
Area rugs are very popular and can be used in almost any room,  even hallways and corridors.  They are most common in the living room over an existing flooring like hardwood.   You can get beautiful area rugs for significantly less than purchasing a rug from a fine rug dealer.
There are certain things to consider when using area rugs.  Here are some rules of thumb:
The most common mistake people make with area rugs is to get one that is too small. An area rug should fit under all of the main furniture pieces in a room and all the legs of smaller pieces should be on the rug whenever possible
If you have a large room divide up the conversation areas and use a different area rug for each one, the rugs can be different but should be tied together by a color or pattern.
For an average-sized room, there should be anywhere from 8″ – 24″ of floor between the edges of the area rug and the walls of the room.  Make sure you center the area rug in the room and the distance between the rug and the wall is similar on all four sides.
No matter what the room size, make sure there is enough room for people to walk on the rug.
If you want to add a new look with different colored furniture it is much easier than taking out the entire rooms carpeting.
Color and Pattern
Area rugs are like art for the floor and they're a great way to add color into a room.
Area rugs with bold patterns can be great, but make sure that when you place furniture on them the designs aren't completely covered up. Take your furniture placement into account.
We sell the best and highest quality of under rug non slip padding, cut on site to fit your rug perfectly so that the rug overlays by half an inch.
Give us a call to schedule an appointment at our showroom or in your home if you are interested in a custom made area rug.