Luxury Vinyl Tile (LVT) is the fastest growing segment in the flooring industry for many reasons.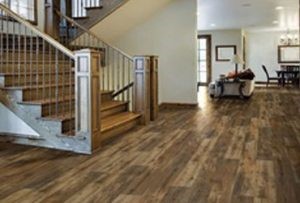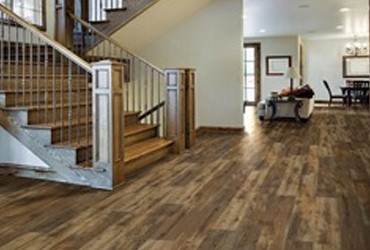 Many styles of LVT look so much like  wood that you really have to look at it closely to determine if it is Luxury Vinyl Tile or wood.  You can also purchase LVT that looks just like stone or  tile.  LVT is a very versatile product and can be used in any room in the home. The newest LVT product has a water proof core.  This is very popular for bathrooms and kitchens because it is water proof and you can just wipe up spills without worries.  Luxury vinyl has a softer surface than wood or tile floors. This provides more flexibility making it easier to stand on for long periods of time which is great for kitchens or game rooms.  LVT  is also becoming very popular in businesses because of its versatility.
Why people choose Luxury Vinyl Tile:
People are using LVT in their houses and businesses instead of tile or hardwood because it is easier, faster and cheaper to install.
Ease of maintenance. You can just sweep up the dirt from the LVT or mop it down.
LVT is very durable, especially the thicker heavy duty types designed for businesses or higher traffic areas.
LVT can hide your sub floor imperfections.
Most LVT has a sound mitigating underlayment or you can add one before installation.
LVT is great in basements as you can put it right over the concrete flooring or add an inexpensive underlayment that makes it softer to stand on.
LVT is warmer to walk on than tile so it is more comfortable in the winter months.
Types of LVT:
LVT stands for luxury vinyl tiles and LVP stands for luxury vinyl planks.
WPC stands for Wood Plastic Composite. WPC vinyl flooring  comes with a100%  waterproof core.  WPC products are a type of luxury vinyl tile.
Rigid core luxury vinyl flooring, also known as SPC flooring, is the most durable waterproof vinyl flooring.
SPC stands for Stone Plastic Composite. It describes the super tough core layer which is almost indestructible. It is great for uneven subfloors.
WPC vinyl is very sturdy, but SPC rigid core luxury vinyl flooring is even sturdier, almost like concrete.
With WPC and rigid core vinyl you can find all types of real looking wood or stone in almost any color. It is so real looking that it is hard to tell the difference from real wood or stone.
Installation costs vary based on the type of LVT chosen. The other factors include the floor preparation involved and if you have base molding that needs to be removed and reinstalled.
At Coventry we carry the following brands of Luxury Vinyl Tile:
Residential LVT
Provenza
Earthwerks
Armstrong
SouthWind
Evoke
Paradigm
Dixie
Masland
TAJ Flooring
Commercial LVT
EF Contract
Milliken
Mannington
SouthWind
J&J Invision
Patcraft
Shaw Contract
Mohawk
Armstrong Parallel
TAJ Flooring
WHATEVER YOUR FLOORING NEEDS
WE HAVE YOU COVERED!
If you are looking for exceptional customer service and the best deals on LVT or carpet in the "Denver Metro" area we are the company for you.  Give us a call to schedule a meeting at our Denver showroom located close to 8th avenue and I-25 or for an in home estimate with our mobile showroom. We will be able to give you a cost for installation after examining the areas you want your LVT or carpet installed.