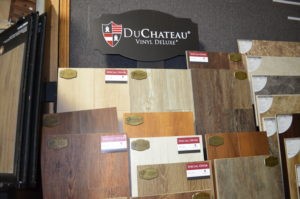 Luxury Vinyl Tile (LVT) is a plank looking product that can be made  to look like wood or tile and it is very life like. That is why it is the fastest growing product in the flooring industry. LVT has only been around for about 8 years.
It is much more versatile than laminate. It is great for kitchens and bathrooms were water can be an issue.
Laminate is plastic that was introduced 25 years ago.   Laminate typically has a wood core so it is not great in the bathroom or kitchen where it could get wet and can expand.
Price is similar for either one $1.50 to $4 a foot.
Coventry Flooring installs LVT and carpet.  We are cash and carry for laminate products.
Pricing is by square foot and will depend on lots of issues based on what your actual floor is like.  We will come out and do an estimate for you to see what your job would involve.
Give us a call today and schedule an appointment with our mobile  or regular showroom.  We will come out to your home with samples or you can come to our location by 8th and I-25.