We are experts at helping you choose the best carpet for your facility and location.  We will come out and inspect where you will be installing the commercial carpeting with our mobile showroom van so you can see the multiple options that are available. While we are there we will give you a solid estimate on the cost for the commercial carpet and installation.  We have some of the best installation crews in the state, and our reputation in the industry is second to none. Most of our installation crews have over 30 years of carpet experience. They are reliable, honest, hardworking and pleasant to have in your business.
 Commercial carpeting is manufactured to be durable, economical and to hold up well over time.  It is designed to hold up to substantial foot traffic while still looking great.  A commercial space with heavy foot traffic should select a commercial carpet, not a residential carpet, to withstand heavy traffic on a regular basis.
How long will Commercial Carpeting Last?
Commercial carpet is designed to hold up well in a busy  company environment and will last longer than residential carpet would under the same heavy use. The lifespan of a commercial carpet can be anywhere from three years to fifteen depending on a several factors, including: 
Fibers: Commercial carpet is usually nylon because it is easy to clean and can come with stain resistance.
Density: The more dense the carpet, the longer it lasts.
Colors: Darker colors and multiple color patterns hide stains better and will look better for longer time periods.
Installation: Professional carpet installation is recommended so that the carpeting will hold up to the heavy traffic.
 While commercial carpet  is primarily used in retail and office spaces, it can be used in any place where you want to a durable flooring .
Advantages of Commercial Carpet 
It is affordable and lasts for a long time.
Designed to be more durable  so thousands of people walking on it will not harm the carpet fibers.
It is usually stain-resistant reducing how often is needs to be cleaned and replaced.
Less expensive than residential carpet because it is made from affordable fibers.
It comes in a wide range of colors and patterns that can fit into any office space.
Disadvantages of Commercial Carpet
Rough texture.
High quality carpet can be expensive.
Less comfortable to stand on than residential carpet. A thicker underlayment can reduce this issue.
Lower quality carpet  can have fibers that crush quickly with heavy use.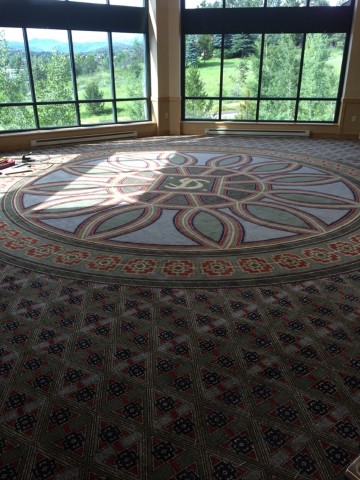 Commercial Carpet Materials 
Nylon is often the first choice because of its durability,  appearance and stain resistance.
Olefin is slightly less durable and has a shorter lifespan.  Olefin is less expensive than nylon which is great if you have a smaller budget or are planning on moving in a few years.
Types of commercial carpet construction
Cut pile is usually the most expensive and nicest.  This style is tighter and softer and is great for higher end office spaces.
Loop  is the most common type. The fibers are  looped without being cut preventing fraying and providing extra durability.
Carpet tiles can be made from cut pile or loop fibers. Tiles come in squares that can be placed directly on the floor. Tiles can be removed and replaced easily.  You can replace damaged or worn out places instead of the entire carpet.
Listed below are a few of the commercial places we have installed carpet. The Brown Palace Hotel (Denver), St. Julian Hotel (Boulder), Sonnenalp Hotel (Vail),Steamboat Grand Hotel (Steamboat Springs), The Glass House (Denver) Paramount Café ( Denver),  Southridge Rec Center (Highlands Ranch), Union Station (Denver).
Call Coventry Carpets, we have the design and installation know how to turn your business into a space you will be proud of AGAIN!  You will also receive our lifetime installation warranty