At Coventry flooring we custom make area rugs in any shape or size. We can make them from any type of carpet. People love area rugs in their living room or family room. Area rugs are cozy and decorative. You can create a frame in which to place pieces of furniture or define living spaces. People create artwork and conversation pieces from these rugs.
Area rugs can be used in almost any room including hallways. They are most common in the living room over an existing flooring like luxury vinyl tile or hardwood. You can design a beautiful area rug for much less than purchasing a rug from a fine rug dealer.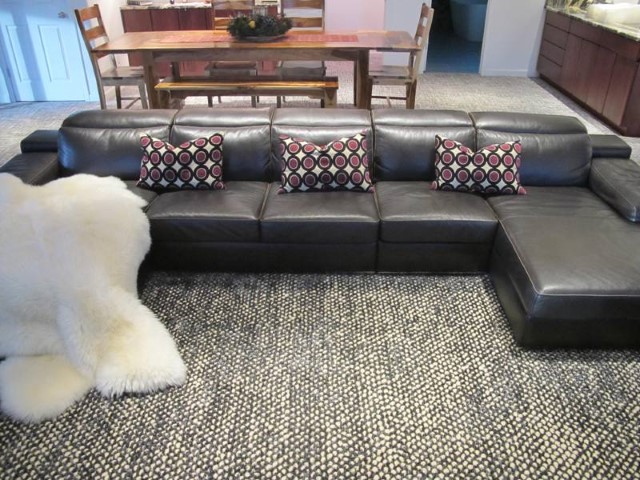 Things to consider when using area rugs.
The most common mistake people make is to get one that is too small. An area rug should fit under all of the main furniture in a room.
If you have a large room divide up the individual areas and use a different rug for each area, the rugs can be different but should be connected somewhat by a color or pattern.
For an average room, there should be anywhere from 8″ – 24″ of space between the edges of the area rug and the walls of the room. Make sure you center the rug in the room and the distance between the rug and the wall is similar on all sides.
No matter the room size, make sure there is enough room for people to walk on the rug.
Colors and Patterns
Area rugs are like art for your floor and are a great way to add color into any room.
Area rugs with bold patterns can be great, but make sure that when you place furniture on them the designs are not totally covered.
We carry the highest quality of under rug non slip padding, cut on site to fit your rug perfectly so that the rug overlays by half an inch.
Give us a call to schedule an appointment at your home if you are interested in a custom made area rug.