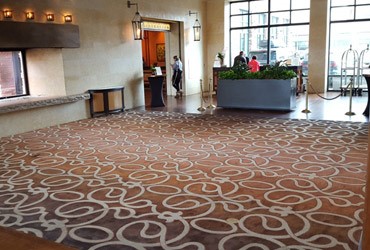 Commercial Carpets are a timeless option for indoor office spaces.  From the Boardroom, to the long corridors, lobbies and offices, commercial carpet can bring a timeless upscale look to your work place.
How can the style and design of your commercial carpet help impact your bottom line?  You wonder if an investment in a quality carpet or carpet tile is worth it?  You are not alone with this kind of question. In fact this is a yearly concern for most businesses.  How and when should I invest in the interior of my business…….
Please understand this is only a funny example but it hopefully can get the point across to help make up your mind if an investment is necessary.
"Bill, is an owner of a large account you have been trying to land for some years now. His previous supplier/ manufacturer has finally dropped the ball and you have your first IN 5 years.  The meeting is to take place in a month.  You want the interview to be perfect, You start walking around the office looking at it closely for the first time……What do you see?
Tired Carpet, seams of the carpet are fraying in multiple areas, there are numerous coffee stains down the corridors and in several offices.  The carpet is really pretty blah and does nothing to complement the new office furniture you purchased a few years ago.  All in all, you are a bit embarrassed to have Bill come visit your office and don't think his impression of your company will be first rate. "
THE SOLUTION:
Invest in your company, and others are more likely to invest with you.  Call Coventry
Carpets, we have the design know how, and installation know how to turn your space into a space you will be proud of AGAIN!
Frequently asked questions:
What's up with this carpet tile I am seeing everywhere?
Are all commercial carpets created equally?
What type of yarn is best for traffic areas and staining?
What do I do with all this furniture?
Won't carpet installation effect work productivity? Can you do weekends? Nights?
There is no way I can afford new carpet, can I?
I want to do something really cool with a design, can you help?
I have heard horror stories about carpet replacement, why will you be different?
Commercial Carpet most certainly does not have to have a dull appearance to it.  This is not your Father's carpet!  Carpet tiles are a perfect example of the fun you can create and the performance you will get if you decide to go in this direction.  The options and designs are limitless, It will set you apart from your competition, and your investment will last for years to come.
At Coventry Carpets, we have installed 1000's upon 1000's of yards of commercial carpet throughout Colorado.  Listed below are just a few of some high profile commercial places we have installed Carpet.
The Brown Palace Hotel (Denver), St. Julian Hotel (Boulder), Sonnenalp Hotel (Vail),
Steam Boat Grand Hotel (Steamboat Springs), The Glass House (Denver) Paramount Cafe ( Denver),  Southridge Rec Center ( Highlands Ranch), Union Station (Denver)  just to name a few.
Please call us to help with your next commercial project.